Looking for cost-effective yet fully featured Access Control ? Compare ours with other manufacturers:
No monthly costs
Free built in software
Secure Unclonable Fobs & Cards
Designed, Manufactured and Supported in the UK
Experienced Pre-Sales Advice & Technical Support direct from the manufacturer
5 Years Hardware Warranty ( T&C's apply)
Navigator IP v10.0+ Software
Home Page
No software to purchase or license.
You can use a browser on any device you like to view & control Navigator IP.
Embedded software means you don't have to install it on a PC or laptop or download an app!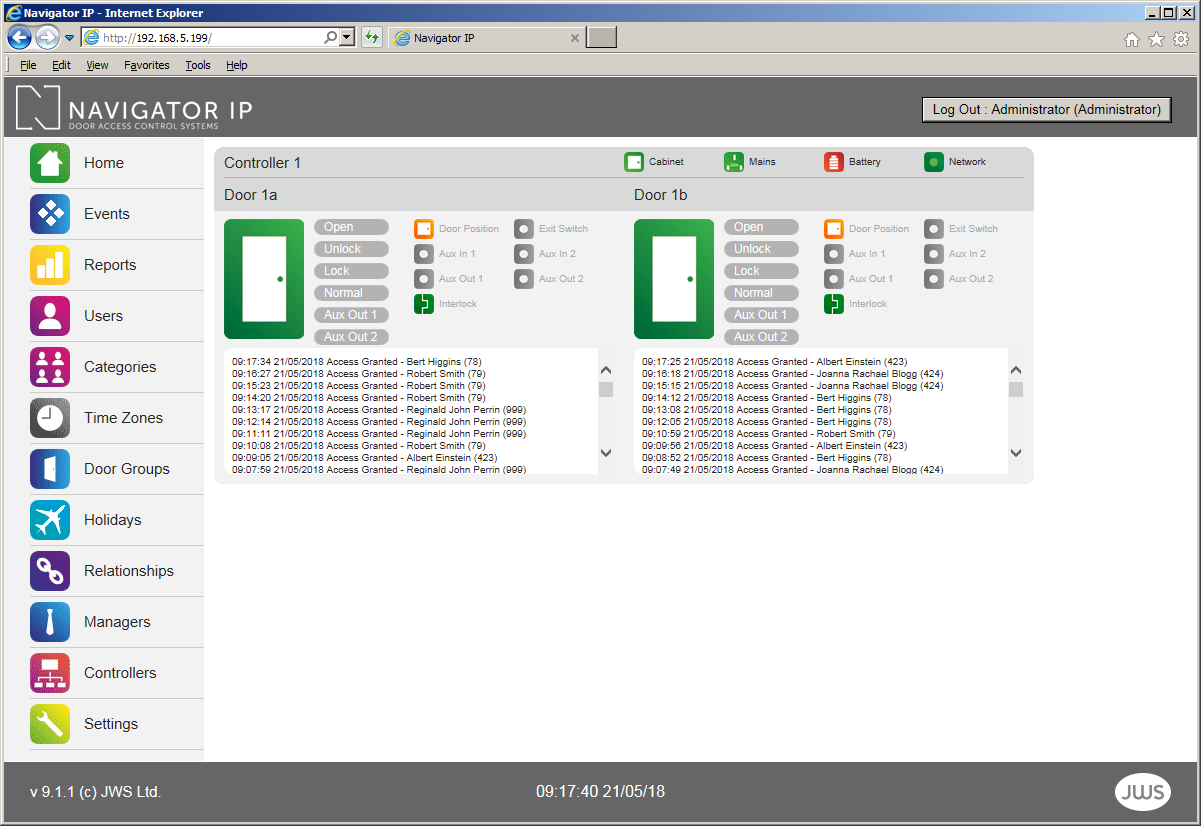 Home
Simple and intuitive yet feature rich and powerful
Allowing programming, monitoring, and reports of your Access Control
Door Control: Open, Unlock Lock & Normal
Auxiliary Relay/Output control
Live Door Status: Open, Unlocked Locked
Live Icon Status: Door Position, Exit Switch, Interlock, Auxiliary Relay
Live Events Window per door
Live Controller Feedback Cabinet, Mains, Battery & Network
The Home page also contains:
Real Time / System Clock
Firmware Version Number
Log-out Button (with current Manager displayed)
Menus/Clickable Buttons to other pages
Log-on
Open your Browser (we recommend Microsoft Edge or Firefox)
Enter your User Name and Password. Contact your Systems Administrator for your password or create one on the Managers Page.
Passwords must be between 10 and 20 characters long and contain at least one number and an uppercase letter.
Passwords must not contain special characters such as $, %, etc.
Your PC, laptop or tablet must be in the same IP range as the Navigator IP Master Access Control Unit.
By default the Navigator IP Master Access Control Unit is set to 192.168.5.50 - this can be easily changed via the software or the JWS Discovery Utility.
Overview of Navigator IP pages
Click the headings to read more about each section.
The Events page gives us a system-wide view of current activity on your door and/or network of doors. It displays the last 250 events and shows the following:
Unique Event ID
Event Date & Time
Event Type ( eg. Access Granted, Door Left Open etc)
Controller Door Location
The User
The Operator (person logged on to the system, if appropriate)
This page updates automatically every 10 seconds. The above information can be retrieved by using the Reports page and Exported via CSV file to a spreadsheet of your choice.
Generate Reports
Time
Date
User
Door
Export Directly to CSV for Excel, Numbers etc
Control the Users by choosing from a number of options
User Name
User Category (Time Zone & Door Group)
PIN
Expiry Date
DDA Assisted Access
Full User Backup and Restore Categories
Combine Time Zones & Door Groups
Controlling Users by Time & Door parameters
Choose from 64 User Categories
5 Times Zones per User Category
5 Door Groups per User Category
'Total Access' default User Category for quick programming
Time Zones to control User Access
Set-up Time Zones to control Free Access for doors
Choose from individual or a combination of days
Holiday Option
64 Time Zones
Set-up Door Groups to control User Access by door(s)
Choose from available doors
64 Door Groups
Set-up Door Groups for your Users and Access Control System.
Powerful Cause-Effect software e.g. Send me an email when a Break Glass is pressed or a Door is left open!
Cause Events per Controller, Door or User
Effect Events (outcome) for Door(s) or User(s)
Email feature
Manage who has access to Navigator IP Software and who sees what!
A multitude of options to set-up the Navigator IP hardware.
A multitude of options to set-up the Navigator IP software, systems settings, email etc. and backup & restore.